Custom warehousing is distribution support service that is specifically tailored to the individual needs of each client as opposed to generic bulk receive store and ship services provided in many public storage warehouses.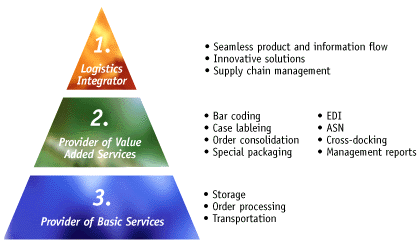 With a SERVEX-designed custom warehouse package all base level distribution services are provided but the client specifically directs the exact structure and service levels that are necessary to support his/her business activities and inventory record keeping including :
Break bulk pick and pack services
Same day shipment of all orders.
24 hour access to inventory for emergency orders
Will call at the warehouse
Carrier selection and freight routing
Freight bill auditing
Project aggregation from clients suppliers (pack and hold)
Reverse logistics (returns processing)
Export documentation
The customer also specifies the conditions required to maintain the physical inventory as well as all inventory records:
FIFO processing
Clean Environment
ESD protection for electronic equipment
Cycle counting for item balance integrity
Bar code labeling and scanning
These custom service packages are seamlessly integrated into the customers entire supply chain so that the SERVEX warehouse becomes an extension of the customer's own operations. Our staff becomes expert in recognizing and handling the products and processes as well as engaging productively with our customer's internal staff and also with their external suppliers and customers.
©2020 Servex, Inc.
1670 Frontenac Road, Naperville IL 60563
phone (630) 369-9500 • fax (630) 961-4758

Site design and construction ©1998 Matthew J. Savard